DCS WORLD NEWSLETTER 08.10.2021
08 ott 2021 • DCS World - Eagle Dynamics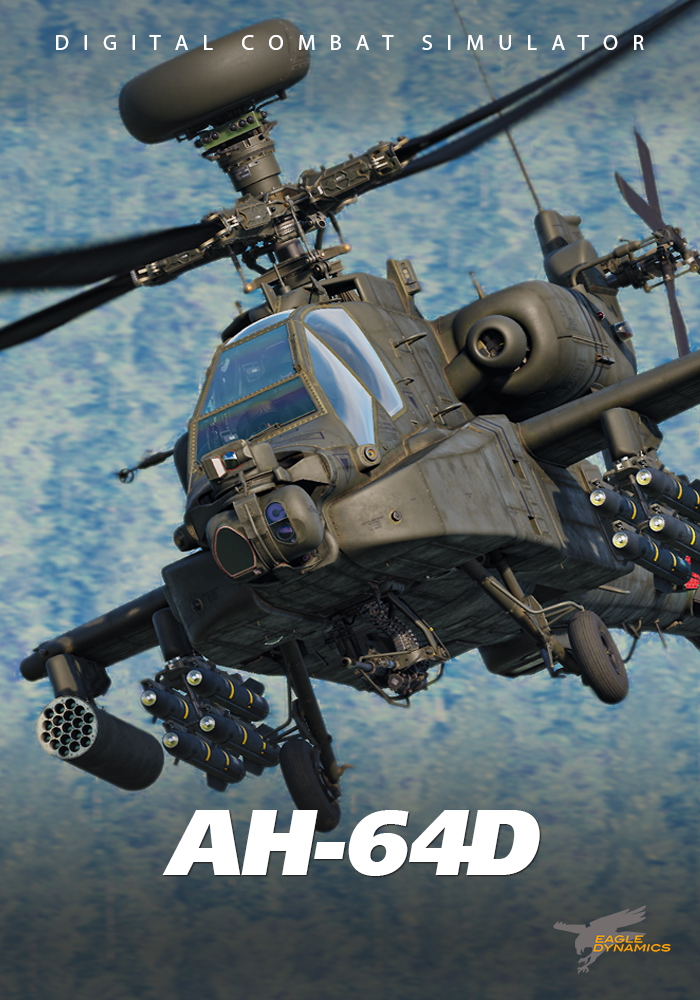 DCS WORLD NEWSLETTER 08.10.2021
DCS: AH-64D - Pre-Order
Our AH-64D has served as the backbone of the U.S. Army attack helicopter force for decades, and it is a dominant force on today's battlefield. Based on the AH-64A, the "Delta" is a tandem-crewed helicopter with the pilot in the back seat and the co-pilot/gunner (CP/G) in the front. Armed with a 30mm chain gun under the nose, and Hellfire missiles and 2.75" rockets on the stub wings, the AH-64D proved its mettle in Iraq and Afghanistan against a wide array of threats.

Later in development, our AH-64D will also be equipped with the Fire Control Radar (FCR) that will enable it to detect, classify, track, and engage both air and surface targets with radar-guided Hellfire missiles.

Early Access features of DCS: AH-64D
Professional flight dynamics and engine modelling with high precision characteristics of the real aircraft in all ranges of altitude, temperature and speeds for different weights and flight configurations
Two 6DOF highly detailed cockpits and external model
Fully clickable cockpits with mouse interactive control
Multi-crew. A second crew member can be another player or "George" AI
Detailed modeling of the entire electrical, fuel, hydraulic, pneumatic, fire protection, SCAS, hold modes, and radio systems
Full modeling of armament and weapons systems with ability to use 30mm chain gun, 2.75" rockets, and AGM-114K Hellfire anti tank guided missiles in Direct, Low, and High modes
External fuel tanks
IHADSS, MPNVS, and MTADS/TEDAC systems and sensors
Linear Motion Compensator (LMC)
Tactical Situation Display (TSD) with moving map
Defensive systems that include the Common Missile Warning System, chaff and flare dispensers and radar warning receiver
U.S. Army and Other Paint Schemes
Night Vision Goggles
Search Light
Early Access Manual
Training Missions

At final release:
Fire Control Radar (FCR) and Radio Interferometer (RFI)
Addition of the AGM-114L Radar-Guided Hellfire
Additional rocket types like Flechette and MPSM
Data Link System to share and assign targets between flight members
TADS Multi-Target Tracker (MTT)
Laser Warning System
Radar Jammer
Anti-Ice System
Advanced Damage Modeling
Additional liveries and livery template
Full English Manual (full list of languages is TBD)
Campaign by Eagle Dynamics

Available for a limited time at only $55.99: pre-order

DCS: AH-64D - TADS

The Targeting and Designation System (TADS) is the combined sensor and targeting unit fitted to the front of the helicopter. TADS contain stabilised electro-optical sensors and a laser rangefinder / target designator. The TADS can be slewed using co-pilot/gunners TADS Electronic Display and Control (TEDAC) or slaved to the helmet line of sight of either crew member. The FLIR camera of the TADS is a powerful sensor for both day and night operations and will incorporate our new FLIR technology.

DCS: AH-64D - AGM-114K Hellfire

The AGM-114K Hellfire Missile is a Semi-Active Laser (SAL) guided missile, and it will be the principle precision strike weapon for our AH-64D at early access release. The Hellfire is guided by laser energy reflected off targets and it has a tandem shaped-charge high explosive anti-tank (HEAT) warhead for both armored and unarmored targets.

Both systems above are currently In Development with an expected delivery of Q4.


FONTE https://forums.eagle.ru/topic/254461-official-news-2021/?do=findComment&comment=4792269
Simulatori
Reparti AMVI
Altre Notizie