DCS WORLD NEWSLETTER 02.04.2021
02 apr 2021 • DCS World - Eagle Dynamics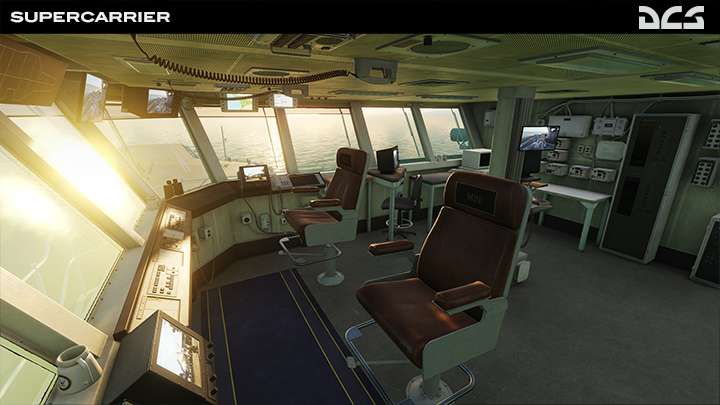 DCS WORLD NEWSLETTER 02.04.2021
We are pleased to announce two new multiplayer features for DCS: Supercarrier. These will be available in the coming update of DCS World 2.7.0 and will offer the ability for human LSOs to control the 'cut lights' and 'wave off lights' for network players on approach. All our main updates to DCS: Supercarrier are also being worked on and their release is planned for Q3 2021. These enhancements include the Air boss and his ops station, detailed briefing room and PLAT camera along with many other improvements.
This week we would like to show you some of the progress being made on Guam. As well as allround fine tuning, we are currently working on night lighting, in particular along the roads. The map has been in internal testing for a while and we are finalising verification of airfield functionality, checking for topographic anomalies and correcting graphic inconsistencies and glitches. We feel that we are getting very close. Please do take a look at some of the details below.
We recognise that you are champing at the bit for the release of 2.7 and in particular looking forward to enjoying the new clouds. We feel the same way but we want to take all necessary measures required to deliver this new build with a minimum number of issues and so we are working overtime to bring you the best we can. We sincerely apologise for the delay.
Supercarrier - Features for Q321
The 3D Air Boss (PriFly) station will come with the possibility to control deck flood lights, the speed and direction of the carrier, and monitor the PLAT camera. In addition, we will implement launch and recovery operations from the Air Boss (PriFly) via 5MC messages.
The 3D Briefing Room will offer interactive squadron meeting capability. This is particularly interesting for multiplayer action, pre-mission start and for after action review. Our Integrated Voice Chat will also allow real-time coms with your squadron. An interactive map, PLAT camera, Greenie and Kill boards will provide simultaneous online statistics during mission progression. Each pilot seat in the briefing room includes an interactive tablet that will allow you to control the fueling and arming of your aircraft.
Red Flag 21-1 - Third party Campaign
Enjoy this very realistic campaign by one of our most respected 3rd party developers, Bunyap. Operate out of Nellis AFB, Nevada in F-16C Viper and fly against adversaries in an exceptionally well researched Red Flag campaign.
Key features:
10 highly detailed missions based on the actual Red Flag exercises with optional air start
Precise and authentic PDF mission briefings adapted from USAF standards
20-page Campaign Guide and 50-page Standard Operating Procedures document
Hundreds of authentic voice overs
DCS: F-16C Red Flag 21-1 Campaign by Bunyap
Steam Store: DCS: F-16C Viper Red Flag 21-1 Campaign on Steam (steampowered.com)
Introducing Guam - Development Progress
With 540 km2, Guam is the largest and most populated island of the Marianas archipelago. It lies about 5,800 miles (9,300 km) west of San Francisco and 1,600 miles (2,600 km) east of Manila.
The Chamoru people settled on the island approximately 3,500 years ago and were essentially disconnected from the rest of the world until the Portuguese explorer Ferdinand Magellan discovered the island on March 6, 1521. Guam was subsequently colonized by Spain more than a century later in 1668. During the Spanish–American War, the United States captured Guam on June 21, 1898. On December 8, 1941, hours after the attack on Pearl Harbor, Guam was captured by the Japanese, who occupied the island for two and a half years. American forces recaptured the island on July 21, 1944. Since the 1960s, Guam's economy has been supported primarily by tourism and the U.S. military, for which Guam is a major strategic asset.
When arriving in Guam, one of the first things you will see is "Antonio B. Won Pat International". Originally built by the Japanese during the occupation, it became a base for the USAAF B-24 "Liberator" bombers in 1944-45. In 1947, the USAAF turned over the airfield to the United States Navy, who operated it as Naval Air Station Agana until 1995. Civilian use of the airport began in 1967 when the International terminal was opened. From this time onwards, the airport has been reconstructed and upgraded many times in order to cope with the growing air traffic and passenger requirements.
Guam is a multi-ethnic island with a current population of more than 160,000 people. The island is divided into 19 municipal villages and required the terrain team to develop a large number of new and adapted ground assets. With tourism being the most prominent component of the island's economy, there are a lot of hotels and golf courses dotted along Tumon Bay.
This is the Dandan solar plant that boasts over 120,000 solar voltaic panels capable of generating more than 25 megawatts of power.
Guam is home to one of Trans World Radio's major Pacific transmitter stations. This multinational evangelical Christian media organization goes out to more than 190 countries.
Our upcoming work is to advance work on the many military assets that are so prominent on the islands. We will show you some details in a future newsletter.
FONTE https://forums.eagle.ru/topic/254461-official-news-2021/?do=findComment&comment=4614666
Simulatori
Reparti AMVI
Altre Notizie